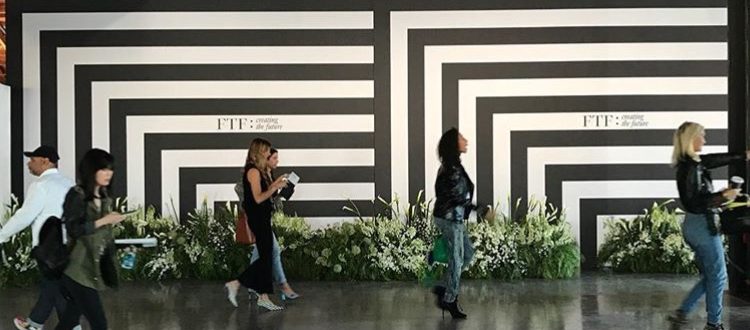 Fashion & Technology: Fashion Tech Forum review
Earlier this month, I was thrilled to attend the Fashion Tech Forum conference in LA. Although I have been focusing more on the sustainable side of fashion, I could not ignore that Fashion Tech is becoming an important component to the future of fashion conversation. In addition, I was very curious to see what the connection was between Fashion Tech and Sustainability.
The conference is in it's forth year (the first three were in NYC) and produced by Karen Harvey Consulting.  When I walked in, I immediately sensed the blending of fashion and technology by the look and feel. It was the 'coolest' conference I had ever been to, and fortunately for me I was able to elevate my 'cool' factor by my fellow Canadian attendees, Andrea Kantelberg, one of Canada's foremost Interior Designers now focusing on wellness lifestyle, along with Amanda Cosco from Electric Runway, a leading voice in the global fashion tech space.
I went with an open mind, however, I did expect to see more of what I used to call 'wearables' or garments/ accessories that incorporated a technical element. Instead, there was considerable amount of time spend on how technology links into design and how technology has changed the selling process. One of the most impactful sessions was hearing John Hoke, Chief Design Officer of Nike. He spoke about how technology is used to amplify human creativity and that technology is now at a place where some exciting design ideas can now be developed to enhance athletic performance.
In terms of retailing, we heard from Hollister about their collaboration with Snapchat to increase brick and mortar appeal to their teen target demographic. Essentially, it sounded like Hollister is using Brick and Mortar as a 'support' to their online existence where their audience spends much of their time, investing $400 Million to ensure a seamless online/ in-store experience. Farfetch was another interesting company to hear from. They are connecting boutiques around the world to a global audience and essentially helping them build their inventory platforms to manage this. It appears that they are in a strong position for growth by focusing on digitizing and stream-lining the logistics side of the business.
A highlight for me was the first session with Henrik Most, Creative Lead at IKEA and Virgil Abloh, Founder and Creative Director of Off White. They spoke about their new design collaboration for young people moving into their first home, where Virgil stated "it's a guessing game with a bunch of employees in a boardroom", so he aims to meet with people and visit their homes to see how they truly live. Henrik shared that he doesn't consider people "consumers" they are all humans and that we need to consider the emotional element of design.
Another highlight was the Will I am and Flex panel as they spoke about their collaborative effort to bring i.am ideas to life. Will spoke quite frankly that the Fashion Industry needs to "wake up" and "disrupt themselves" or everyone else will, especially the key tech companies like Google, Apple, etc. He amazed me because his ideas were so forward-thinking but he is grounded enough to choose a partner in Flex to help develop these futuristic ideas into today's reality. Someone from the audience even asked him "Are you from the future?", his reply "I do actual speak every day to my future-self, so in a way…I am" (comments are paraphrased).
Key take-aways from the event:
Technology is the 'enabler' or as John Hoke from Nike said "amplifier" of human creativity…essentially, many of our ideas have been there, but now technology has caught up and can help make our ideas a reality
Collaborative efforts are the best way to success for the future of fashion. Whether it was Ikea and Virgin collaborating to design home-wear for millenials or Will I am and Flex – the road to the future is where we share ideas across industries, skill-sets and even generations.
Technological design NEEDS to incorporate the humanity/ human element. Technology cannot exist alone as was noted by Apple style, she focuses on making the 'connection' regularly with her employees.
So what about the sustainability link? It was discussed in the panel with Joey Zwillinger from Allbirds and Yael Aflalo from Reformation about how they use technology within their sustainable fashion companies. They both use new fabric technologies as well as digital applications for customer-centric marketing and logistics. I still need to research further about sustainable design for fashion tech (what I thought initially was 'wearables') e.g. how can the tech-based apparel be recycled or re-purposed.
As mentioned at the beginning of this post, the conference was more about fashion AND technology rather than just fashion tech, and I am grateful to have attended to learn so much more about their convergence. In terms of sustainability, my take was that by enabling new technologies into the design, logistics and retailing aspect, perhaps we can reduce waste, enable better performing products that will last longer and manage inventory/ logistics systems where supply can better meet demand.
Thank you for reading,
Stacey.
(Featured photo credit: Fashion Tech Forum via Instagram)