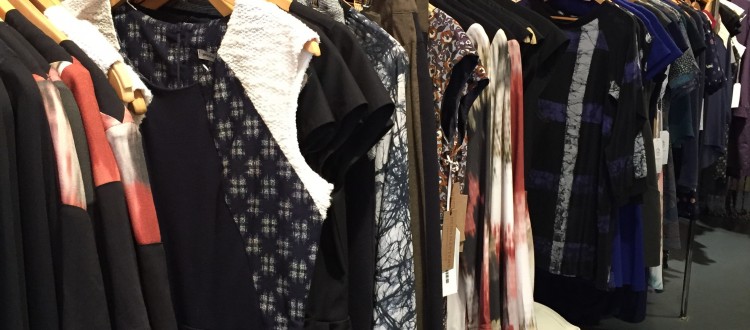 Montreal – Ville de Style
I have always had an affinity towards Montreal – a Canadian city with flair. Growing up in Toronto, I recall thinking that I could typically detect a Montrealer based on their fashion sense. The retailers I grew up with (Le Chateau, Bedo and Jacob) were all from this stylish city.
It had been about 10 years since I had visited the city – and felt it was time. Immediately, I could sense the street style – from the beautiful, historic architecture in Old Montreal to the internationally renowned Graffiti artistry (Murales) on Boulevard Saint-Laurent. Emily Robertson from Gallery Station 16 told us about the annual Festival D'art Public in the summer…with much pride.
I was most interested to get a sense of what I once knew as the 'fashion hub' of Canada, and to understand where it was today. Recently, I was introduced to a Montreal based brand called Fig Clothing that is designed and manufactured locally. I was also told that they tend to reduce the use of buttons and zippers to keep costs low and rather invest in the quality of the fabric – smart!  Well, I misgoogled and ended up at their production facility rather than a store, but it had me thinking – what had happened to the fashion manufacturing in Montreal?
As per Kelly Drennan's article in the Fashion issue of AJ magazine, "In 2003, Canadian import duties and quotas on garments made in developing countries were lifted…many factories that used to exist in Toronto and Montreal shut down after Canada lifted tariffs". As many production facilities moved off-shore, there more recently seemed to be a resurgence of smaller manufacturing facilities back in cities like New York City/ Brooklyn and Los Angeles. What about Montreal? I decided to continue my search in the City's 'Mile End' district, recently ranked the #2 most hip neighbourhood in the world by the Huffington Post.
When I visited popular Unicorn boutique at 5135 Saint-Laurent, I asked the manager, Claudine, about this topic. She said "there used to be a large manufacturing base in Montreal, but many closed down…but they are now coming back as more local designers want to manufacture here. Our boutique wants to support that." I discovered some great local designers in the store including, Melissa Nepton, Cokluch, and Eve Gravel.
Other stores in the area like General 54, Piorra Maison, and Lo Well also carry local brands. Some sustainable fashion is also found throughout these stores. Finally, what was interesting was to see the use of 'upcycling' in the retail space throughout the area – which gave the retail space some character and a 'nod' to the time of Canadian fashion supremacy…perhaps the time has come again. Merci Montreal for an enjoyable and informative experience – you've still got great style!
If you have any brands or stores in Montreal that may be of interest for this story, please leave below in comments. Thank you, Stacey.