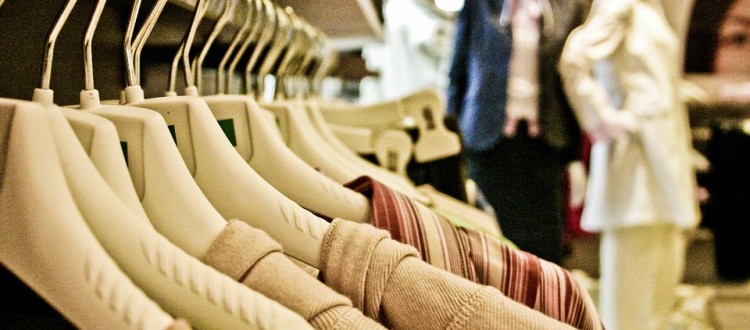 Outlet Malls…the allure of the deal
Typically when I make my way to Florida, I tend to visit an outlet mall. They seem to be better than the Canadian versions that I've been to. But more and more often, I leave empty handed and this time, I also left with a headache. I walked into a large department store outlet and all I could see were racks and racks of clothes, handbags, shoes, etc. So much so, that I wondered how all of this merchandise would sell…considering it was already post Xmas rush.
With all the articles I've been reading recently about ethical fashion, I couldn't help but think of all the labour involved…and the travel…and the carbon used to make the products. If this is the supposed 'last place of sale' what would happen if they didn't sell? Would they be dumped into a landfill? Donated? Sold to even lower end discount houses? Ironically…what if they were shipped back to the point of fabric origin as a donated or super-cheap product. Essentially, the product would end up costing way more than it sold for…and may have travelled the world many times over. That is where the headache started… I also thought the clothes looked cheaper…and based on this recent news story by the CBC, often outlet stores house lower quality versions of the retail stores. However, a deal is a deal…and if it seems nice and is a great price, why not?
Growing up I never knew what full retail price even meant. My mother is the best deal finder and negotiator I know. She grew up without much materialistically, but she always managed to look sharp. Her mother, my grandmother, was an excellent seamstress and found the best quality materials at the lowest price and made super fashionable outfits. I personally benefited by having the best Barbie clothes on the block. As the years passed, my mother was still very price conscious and continued to find the best deals…however, many of these 'deals' would end up barely worn, taking up space in her closet. So I said "Mom, even though you got a deal…you still spent money on something you never wear…a waste!".
The question is, with more outlet malls sprouting across North America (see International Council of shopping Report) are people buying more things they don't need due to the allure of 'the deal'? My husband, who joined me on my outlet excursion did it right. He knew what he was looking for, essentially as he called it 'his uniform'. He was focused and didn't get caught up with buying what he didn't need…his list: 2 pairs of Levi's (a better deal when you buy 2), 1 pair of converse and a Robert Graham shirt (usually $250 Cdn…his deal $65 US).
Despite my first endeavour that brought me a headache, I wanted to check out Sawgrass Mills. This time, I went with a plan (actually learning some pointers from my husband!). I planned the trip with stores I wanted to hit, and had a specific departure time. I love Helmut Lang, and was pleasantly surprised how well organized it was and how friendly the staff were…it was a great experience. The staff also confirmed that the merchandise was the same product as their traditional stores, but maybe from an earlier season. I found a great black dress for $100 (originally $495) and can be worn with sneakers, heels for fancy or with tights and boots during the winter months. I felt I was getting good value and loved it.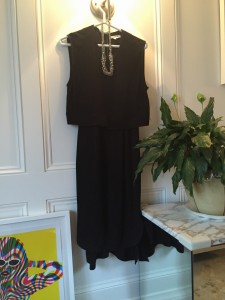 I did a bit of research about Helmut Lang and discovered it was part of a Japanese retail conglomerate called, Fast Retailing Ltd (who also own Theory and Uniqlo). I made my purchase not knowing about their sustainability activity, but knowing that Helmut Lang pieces are timeless, versatile and of good quality. For further information about their CSR activity, here is a link to Fast Retailing Co, Ltd. 2015 CSR report.
Overall, outlet malls are a good 'outlet' for selling through products that couldn't be sold via traditional retailing and offering consumers better price options. But I would hate to think that the tremendous growth of outlet malls is just fuelling more fast, low quality fashion that ends up either wasting away in people's wardrobe or in a landfill. I'm all for the 'art of the deal' and it can be quite alluring (trust me)…but best to still consider if you really need it, that you'll actually wear it and that you are getting good value (please check the quality). If it meets all the above criteria – kudos to you for finding 'the deal'…I know my mom would be proud!
If you have some outlet mall stories you would like to share, please leave in the comments section. Thank you for reading…