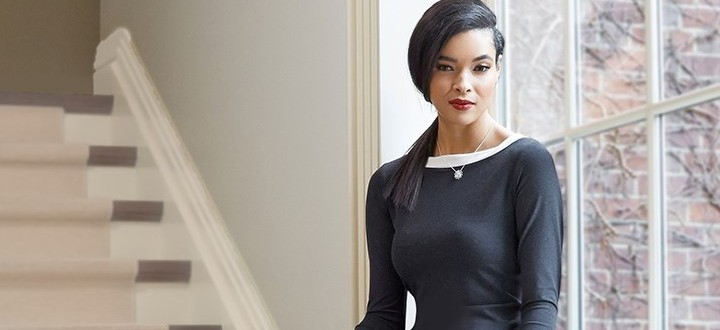 Toronto sustainable fashion line – Miik
Last Fall I met Susan Cadman, President of Miik, at the WEAR2015 (world ethical apparel roundtable) event in Toronto hosted by Fashion Takes Action. I was mentioning that many of my followers are in the 35-55+ female demographic, mostly working women and many moms. She described that Miik targets that demographic, so I was intrigued – and wanted to learn more.
We met earlier in the month at their office in the Candy Factory Lofts on Queen Street West in Toronto – I had always wanted to see the inside of this renovated loft space, and was happy for the visit. Susan was very friendly with tons of positive energy, and was more than willing to share the story of Miik. I have outlined below some interesting things I learned from the interview:
Locally made – although some of the fabric is imported (e.g. bamboo), all the milling, dying and fabrication is done in the GTA (Greater Toronto Area). Where it may seem to be disadvantageous to many fashion houses (e.g. cost), Susan felt very strongly that it is a total competitive advantage. They then have not only complete control over their quality (she mentioned she could go at any time to check on any aspect of the manufacturing process), but they can also do a great job at managing inventory (in some cases shorter turn-around time for additional orders, for example).
Longevity – where fast-fashion seems to become the norm for many retailers, with some having up to 52 'micro-seasons' per year. Miik has 2 seasons (interesting, so do I – I may do some shopping for Fall/ Winter and then Spring/ Summer). They also design classic pieces that are meant to last (in trend) for at least 5 years as opposed to 1 season. They like to reference it as "Style with staying power". This makes sense to me – when I try on a pair of jeans from 5 years ago, they are still wearable, but 8 years ago – may seem 'out of style'.
Wearability – I tried on a great black jacket called the Emily jacket that was classic enough but had a stylish edge. It could be worn with jeans, a skirt, over a dress, etc. It's the type of piece that you would want to travel with for its versatility. The fabric (and this is true of all the pieces I saw) were soft to the touch but strong enough to withstand daily 'wear and tear'. Enough structure to look well- made/ tailored, but also enough movement that you could fold (and not worry about creasing). The fabrics are all made from sustainable materials like bamboo, modal, and linen.
I was curious about whom she sees as competitors – they are in a bit of a unique space. In a way, they are competing against anyone in the female 'career wear' world but they are also competing on a 'sustainable angle' – however, there are very few brands in this space. "Made in Canada" is typically the strongest appeal (aside from their style, fabric, etc) for new customers, as Canadians tend to be patriotic and 'get' buying local helps the Canadian economy. In terms of the sustainability angle, Susan admits there is still a tremendous amount of education that has to happen in the marketplace. It is a reason why they target smaller boutiques and on-line shopping where the Miik story/message can more easily be told.
Susan is excited about the opportunities for the future of the brand. She sees Miik having global sales opportunities and proudly wants to represent Canada in this light. To read more about Miik or to shop online, please visit www.miik.ca
Note: Featured image was used with permission by Miik.
Note: Style with Substance blogs are non-sponsored. Our mission is to promote socially responsible brands and designers (that meet our criteria) in order for them to gain greater awareness and to hopefully increase business.
If you have any brands or designers you would like us to promote, please send us a message.