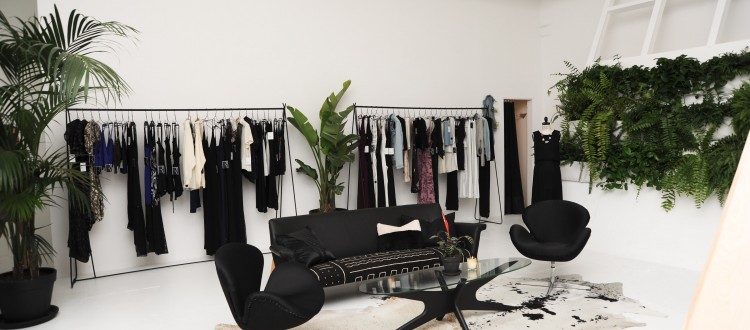 Finding 'Style with Substance' in LA…
On a recent trip to Los Angeles, I was lucky enough to do a little exploring in some of the shopping districts. My first stop was Melrose Avenue, to check out a store called Reformation at 8253 Melrose Ave, recommended by my personal Green Guru, Repurpose founder Lauren Grouper. It was an amazing looking store, loaded with vintage finds, (including Levis), along with original fashions made from sustainable and 'deadstock' fabrics. The sales associate was very knowledgeable about the sustainability aspect, and the website offers more in-depth information about the manufacturing process and eco-impact.
 Left photo and photo in heading used with permission by Reformation
Next was a visit to the iconic Fred Segal store, at 8118 Melrose Ave. which had mostly denim and casualwear plus a separate shoe store, kids store and café.  Design with Purpose (DWP) pants caught my eye. DWP is a locally made, eco-friendly, joint venture by Gwen Stefani and 7 for all Mankind founder Michael Glasser. They are incredibly comfortable, stylish and made with 65% Tencel — a nice change from skinnies. Also locally made in LA.
My final stop in the area, was at a new store called SPOILED!, at 8178 Melrose Ave. for previously loved kids' clothes. I met owner CeCe Hendricks, who was incredibly friendly and fun to talk to. This store has great prices, great style and is eco-conscious. The bricks and mortar version is new; check out her online store.
Later in the week, Lauren took me to the Brentwood Country Mart — a great place to spend an afternoon, especially in the yummy, open-air food court. We visited Malia Mills at 225 26th St., where Organic by John Patrick t-shirts were sold – a sustainable fashion pioneer, who launched his soft, comfy, NYC-made, organic fiber tees in 2004.
I made it to Robertson Blvd. specifically to check out The Fisher Project,  Eileen Fisher's new store concept at 113 S. Robertson Blvd. I loved the store vibe: very open, bright with strong messaging on their Vision2020 sustainability plan. I was happy to find a pair of shoes I loved and as an added bonus, 10% of all proceeds that day were supporting She Heroes. It also helped that I received $30 off my purchase — a true win-win.
On South Robertson, Liberty Garden's store window drew me in, with its "Buy one piece, change one life". The 123 S. Robertson Blvd store, as manager Ruby informed me, supports Doctors without Borders with every purchase made. The clothing is both high quality and unique. I admire any company that is thinking beyond its bottom line (and I'm not talking about their pants!)
If I missed a place in LA that sells clothes/ products with Style and Substance, please feel free to let me know in the comments section below. Have an amazing day! – Stacey