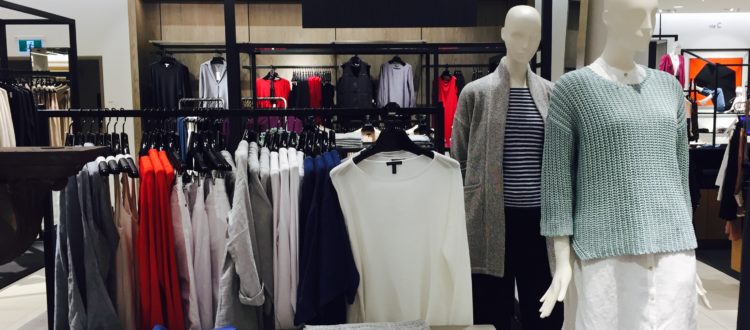 Department Store's Role in Socially Responsible Fashion
As I went to visit the much anticipated new Nordstrom at Yorkdale Mall in Toronto, I was curious to see if I could find any socially responsible fashion. I was impressed with the design and the overall ambience of the store, and was excited to see Tom's shoes, one of the most well known socially responsible brands, as soon as I walked in. However, with no signage, was this a missed opportunity to educate consumers of their one-for-one initiative to give a pair of shoes for every pair purchased?
I decided to go to the women's fashion area, and was happy to see the Eileen Fisher brand in front of me. I have become a fan since focusing on Style with Substance over the past couple of years due to their industry leadership in social responsibility. However, another potential missed opportunity to educate customers about their sustainable leadership like their Green Eileen initiative, and sustainable fabric use.
As I continued to walk around, I didn't see anything that was promoted as locally made, made with organic or sustainable fabric, or have a charitable initiative…so, I asked several sales associates for help. I was then directed to the Me to We Rafiki beads beside the sunglasses. I then asked "Do you have any brands that may use organic fabrics?", one of the sales associates responded "Oh, I think you can find those clothes at Whole Foods".
I thanked the sales associates for their help, and appreciated the response (btw, all sales staff I spoke to were very friendly and tried their best to help), but came to the realization that outside the eco-fashion blogger and fashion-insider space, there is a tremendous amount of work that needs to be done to increase awareness about socially responsible fashion in order for real change to happen…this is where the opportunity lies not just for Nordstrom, but for all department stores.
I continued on my quest, and discovered something hopeful in the denim section. I knew that AG jeans were made in the US, so I quickly took a look at their website and discovered their commitment to be environmentally responsible with the use of ozone technology (to save water and reduce chemical use) and recycling 1300-1400 lbs of denim scraps per week, to be used for car and house insulation.
The other brand I noticed in the casual area was called Madewell. I hadn't heard of them, but was hopeful due to their brand name. On their website, I was able to discover their commitment to recycling denim with an organization called Blue Jeans Go Green. Over 1 Million jeans have been recycled to use for home insulation.
I skipped the luxury section, as this was a very niche market and made my way to the mid-market area. I gravitated towards Rag & Bone, and recalled that they try to manufacture locally. As I checked out their website to confirm, I was able to find that they are committed to working with some of the oldest factories in the US.
Upon researching their website, it was revealed that Nordstrom does have a strong CSR initiative with Nordstrom cares, and they do have some information about socially responsible brands online,  however, I feel they could further strengthen their leadership position by focusing on social responsibility at the store level and leveraging their face-to-face customer relationships.
What I saw in my walk-through would be expected in most Canadian department stores. It would be interesting to see if there was a different emphasis on social responsibility in cities like London or L.A. where socially responsible fashion is more mainstream. Recently I viewed this video from Selfridges about socially responsible fashion. (Positive note: After writing this post, I discovered a Forbes article written on Jan. 14th, 2017 about Selfridges supporting Emerging Sustainable Designers.)
In Canada, I do want to commend Holt Renfrew, the largest high-end retailer in the country who launched the H Project in 2013. The in-store boutique concept was started by Alexandra Weston who was able to use her passion and influence to promote social responsibility in the fashion industry.
As a final quick comparison, I went to H&M which was close by. Although they are the largest fast-fashion company, they are investing in innovative fabric technologies and promoting textile recycling in their stores. Their sales associate was quite educated about socially responsible fashion and he showed a great sense of pride with the success of the textile waste initiative in the Yorkdale store.
Overall, it was a good experience, to walk in open minded to see what I could (or couldn't) find. Large department stores have a very important role to play in reversing the negative impacts of fashion on our environment …and time is of the essence. Here are 3 areas where they can make the greatest impact:
Education & Awareness – They have the mega consumer databases, popular websites and most importantly the physical connection with consumers as they walk around the store and speak with sales associates. These associates can educate customers about the various aspects of socially responsibility and specifically about certain brands. Other communication vehicles like in-store signage and digital communication could also help in the education process.
Support Socially Responsible Brands and designers – these department stores MUST support the brands that are trying to make a difference. Even if only a small percentage of their purchases are within this group, if they actively promote them, they will not only uplift their brand to the socially conscious consumer, but they will also start to put pressure on the other brands to look at the fabric (literally and figuratively) of their products.
Mandate sustainable and ethical standards for the brands they carry – This may already be done to an extent, but I think everyone can do more. Let's think back about 10 years ago when Walmart set strict guidelines for more eco-friendly packaging, most brands did not have a choice but to 'get with the program'. Retail leaders can (and should) do the same for fashion.
It would be very interesting to hear comments about large retailers that ARE taking a strong position on socially responsible fashion, or any other comments on this topic. As usual, I will continue on my search for Style with Substance…
Thank you for reading…
Stacey.