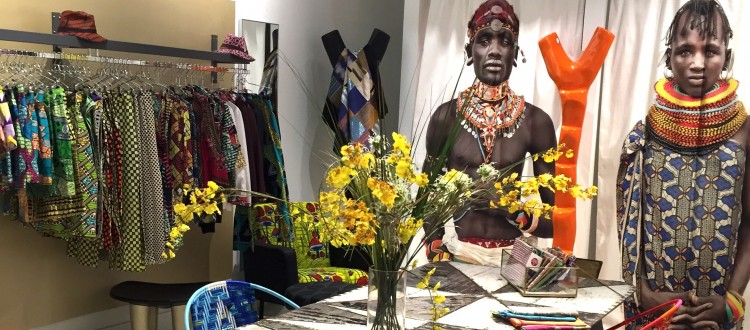 Sustainable style shines in Miami area
On a recent visit to South Florida, a friend of mine suggested to go to Miami's Design District. It had incredible architecture and outdoor sculpture/ art with extremely high end luxury brands. The trip was fairly quick, so we then decided to venture a bit more South to an area unknown to me called Wynwood, where I was pleasantly surprised.
There was a plethora of outdoor murals which reminded me of a recent trip to the Mile End district in Montreal. We started to walk down the main street on NW 2nd Avenue in Miami. Immediately, I noticed a store I wanted to check out called Malaquita at 2613 NW 2Ave. Claudia, the owner, graciously offered us a special tequila drink…nice. I asked about the store and she said that all the products were handcrafted in Mexico. The website states they are "committed to expose the human side of goods and magnify the value of honest creation".
Next we walked by 'Wynwood Block' which led to an ice cream bar in the back. We walked into Mimo Market at 2619 NW 2nd Ave. that had an eclectic mix of clothing, accessories and household items. I gravitated towards a candle display with products from Candlessentials  which are 100% natural soy candles in plantable packaging, hand-poured in California. I read on the website that 10% of annual sales is donated to Lori's Daughter Foundation.
The final stop before dinner at Wynwood Kitchen & Bar was an African artistry store called INIVA  owned by Sophie Pozmentier and Sandra Bellon. INIVA, which means "treasures" in Gabonese dialect, promote African artists and support several charities through the products they produce. Sophie and Sandra consider the concept "ethnic chic".
Another area that I spent some time in is Delray Beach, about 45 minutes North of Miami. Atlantic Avenue is really 'happening' with tons of stores, galleries and restaurants. The day we were there, they were setting up for an annual outdoor eating festival where many restaurants participate.
A store I liked is called Native Sun at 209 East Atlantic Ave . I was attracted to the store window which states "We + You = give back" and discovered that the owner, Kristina Saltzman, is very charitable in her business approach, supporting agencies like HomeSafe. They try to support as many local brands as possible, including ethical-forward brands like DWP (Design with Purpose), created by Gwen Stefani. This time I found a t-shirt from a company called, good hYOUman which I follow on twitter. It was nice to see the product live…it is so soft, and feels amazing.
What was most interesting about the experience at Native Sun, was speaking with Rigel, a sales associate. We were speaking about sustainable brands, and she mentioned how much waste there was in the fashion industry. What was interesting was her 'angle' on waste – she was referring to all the packaging that comes to the store with the new merchandise – including hangers that are never used. She mentioned they re-use wherever possible and try to recycle what they can – but many municipalities don't even have credible recycling programs for businesses.
I researched this a bit further and found the following article that states "plastic commercial packaging like bags, packing foam and plastic wrap are particularly hazardous as they don't degrade and are easily strewn throughout the environment by the wind due to the light weight. Considering that only about 12 percent of the 3.8 million pounds of plastic sacks and bags generated annually in the United States are recycled, it's obviously an incredibly pervasive problem." Please click here for the full article found in Packaging Digest written by Tom Szaky.
My final stop was a store called Fresh Produce at 401 East Atlantic Ave. I discovered on their website, that they are committed to locally produced goods and that 80% of all Fresh Produce products were manufactured in the U.S. I was happy to see 'live' another brand that I follow on twitter called Thirty One Bits. The colourful beads are made from recycled paper and handcrafted into beautiful jewelry, all while empowering women in Uganda to create businesses and a sustainable livelihood.
I find that whenever I have time to explore new areas, and especially by taking the extra time to speak with the owners, artists and sales personnel – there is always something interesting to share. In this case, I discovered a new Miami district filled with many boutiques and galleries promoting a more curated and conscientious lifestyle; a new angle on the 'waste' found in the fashion industry – packaging waste; And was able to 'touch and feel' some 'virtuous' brands that I had previously only known 'virtually' via social media.
If you have other designers, brands or stores found in the South Florida area that you feel have 'Style with Substance', please leave your comments below. Thank you for reading, Stacey.