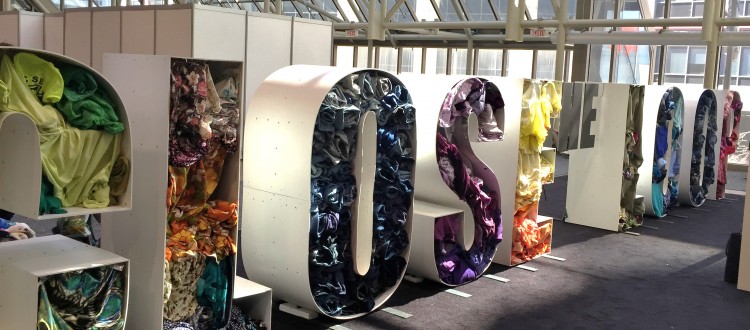 Clothes the loop – interview with a 3rd gen clothing recycler
As I am learning more about sustainability in the fashion industry, a concept that is probably most intriguing to me is the cradle-to-cradle idea developed by Michael Braungart and William McDonough. Their idea raises some good questions, such as: What happens to clothes / textiles once they are discarded? How can manufacturers / designers take into consideration not only how clothes are made (fair trade, ethically sourced, organic, etc.), but also what happens at the end of their lifecycle? Is it possible that these textiles be re-used? Can they be recycled? Are they compostable?
When designers and manufacturers start to consider the full lifecycle of a product, and take responsibility for what happens at the end of its initial use (fashion), then we can move towards a more circular fashion economy. See article by Nayelli Gonzalez in Triplepundit.com about how cradle-to-cradle tackles the fashion industry. I wanted to better understand the back-end of that lifecycle.
In my curiosity, I realized that I happen to have a contact with a Canadian clothing recycler, Wiseman Export. The owner, Neil Rabovsky, is the 3rd generation of this family business, which was started by his Grandfather, Max Wiseman in the early 30s. Max came to Canada from Eastern Europe and noticed that people did not have an idea of the value of feathers, and the different levels of value depending on the type feather. He started a business that would sell the feathers from discarded pillows and comforters – that would eventually lead to an extension to all types of materials.
Neil was gracious enough to give me a tour of the plant. It's now more modernized – but the ideals are still the same from when his Grandfather started the company. Neil now works with both new (returns, surplus inventory) as well as used clothing and has built a very reputable company within an international distribution network.
As I followed Neil around the plant, I asked some questions during our tour. Please see below:
How do you get your used textiles?
Typically we receive clothing bales from charitable organizations, after they have been sorted through for re-sellable clothing or rejected clothing due to season or quality. We then re-sort them to determine if there are any sellable pieces for local used-clothing stores (premium pieces), pieces that can be exported to developing countries and pieces that can be recycled / repurposed.
How has the recycling side of the business changed?
At one time there was 8-10 companies in North America that would buy clothing and textiles for recycling purposes. Now it is down to a handful of them, the business is certainly shrinking domestically. This is due mostly to the end-users who are not using as much recycled material and the slowing North American manufacturing sector. In some cases, they can import new material cheaper than the recycling plant can process it for. Some buyers simply just prefer new materials over recycled product.
What type of textiles can be recycled?
If not sellable as clothing, then typically anything with absorbency can be re-used, like cotton fabrics as wiping cloths. Denim is typically able to be reused. First, we try to resell decent, still wearable goods to other countries in bulk – but even that business is subsiding. In many cases, clothes / textile products can be made so cheaply now in developing countries, that it is not even cost effective for them to buy, transport and then sell North American used clothing.
Some types of materials cannot be recycled at all due to small pieces of fabric when attempting to recycle called 'flags' or if there are too many other pieces (e.g. zippers), and unfortunately they end up in landfill. We do our best to find a buyer for these.
Have you seen an increase in designers that want to re-use clothes, up-cycling?
There are some designers that come here, but it is a very small part of the business. It would be great if more designers wanted to pick through the clothing.
If anyone wants to contact Neil directly to access used clothing, his email is wisxport@rogers.com.
What do you see as the future of this industry in Canada?
Similar to the clothing manufacturing industry, it is on the decline. More and more of the recycling capacity is being handled in developing countries. In addition, some of the clothes are becoming so poorly made these days that they are barely wearable for reuse. We hope that the quality of the product would pick up so they can have a longer lifespan and that more companies see the need for recycled fabrics to increase the demand.
***
I was quite surprised to hear some of the responses in the interview. From an outsider, it appears that more attention on the importance of using recycled goods, including fabric, in the past several years would have increased the demand for recycled textiles.
After doing some further research about the textile recycling industry, I came across an interesting article by Adrian Desbarats who states that the textile recycling industry is a mature industry and is quite efficient. The article outlines that approx. 93% of all textile waste diverted to recycling is successfully reclaimed with about 35% going out as used clothing, 33% as reprocessed fibers (filler in vehicle seats and, upholstery, insulation, etc), 25% is converted to cloth wipes and 7% to landfill.
Another great resource is the Council for Textile Recycling which states that the average US citizen disposes approx. 70 lbs of post-consumer textile waste (PCTW) per year. However, the recycling textile industry only reclaims about 15% of the total textile waste. This means that there is a great opportunity to reduce the amount of PCTW to landfill sites, if more of these textiles could end up in the hands of an already established, efficient and productive industry – the textile recyclers.
I genuinely appreciated Neil taking the time out of his day to give me a tour and offer me some key insights into the industry. Certainly all stakeholders have their work cut out for them…which will not be easy. However, any steps forward is progress to a more sustainable industry.
Some key learnings regarding cradle-to-cradle approach in the fashion industry:
Designers and Manufacturers need to design clothes that will last longer (especially if being passed on to others for re-use). They need to choose fabrics at the start of the design process that can be recycled or re-used, as well as reducing the amount of 'extras' that would make the product difficult to recycle (see Montreal clothing line, FIG). Finally, to focus efforts on innovative fabric technologies that can utilize recycled textiles. (A good example is prAna)
Retailers can offer recycling opportunities at their stores (e.g. H&M, Levis and Eileen Fisher) and help to educate the consumer.
Consumers can support designers / manufacturers that design with the full lifecycle mentality. In addition to more ethical purchasing (Kate Black used the term shop V.A.L.U.E in her book Magnifeco), they can also donate as much as possible when they are finished with the item. Even if the products may seem unusable (e.g. holes, stains) they can still be donated. The experts in the textile recycling companies, as outlined above, can process the materials properly and reduce the amount to landfill.
For further tips on how you can reduce your textile waste, check out Emily Chen's article from the Huffington Post.
If you have further comments about the clothing and textile recycling industry, we would be happy to hear from you. Thank you for reading.
Featured image taken of H&M World Recycle Week display at the 2016 Green Living Show in Toronto.