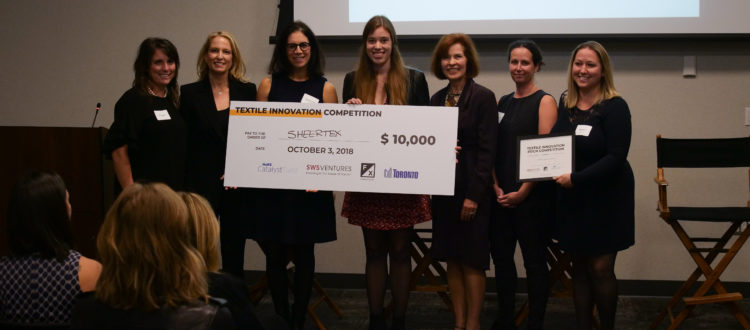 Textile Innovation Pitch Competition
Earlier this month on October 3rd, 2018 Style with Substance (SWS) Ventures was thrilled to have hosted the Textile Innovation pitch competition at the MaRS Discovery District in downtown Toronto. This was a collaborative effort with two other supporting partners,  the George Brown College Fashion Exchange and the MaRS Catalyst Fund.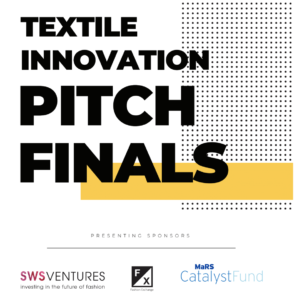 The objective of this event was to discover and support innovative Canadian companies that are developing sustainable solutions for the textile and apparel industries. We also wanted to raise awareness regarding the environmental issues and innovative opportunities for this industry. The Fashion Industry is often considered the 2nd most polluting industry in the world, and there is an opportunity for Canada to take a leading role to develop solutions.
"We felt it was important to focus on innovation for this pitch competition. We already know Canada has amazing research facilities and technology support systems, and are confident that Canadian innovation can take a global leadership position to help reduce the environmental impact of the textile and apparel industry". Stacey Fruitman, Founder SWS Ventures
The pitch competition was open to Canadian start-up companies, with an innovation or technology to reduce the environmental impact of the textile/ apparel industry. We received 43 applications from across Canada with the potential to win $10,000 in prize money along with Advisory Services from both the George Brown College Fashion Exchange and the MaRS Catalyst Fund. There were four finalists selected to do a live pitch in front of the audience and the judges. We had an esteemed group of judges, with a multi-disciplinary background. They included the following:
Prior to the competition, we hosted a Panel discussion to provide the audience with a background of the current challenges and opportunities facing the textile & apparel industry with regards to sustainability, innovation and the circular economy. The panel was moderated by Amanda Cosco of Electric Runway, a global thought leader in Fashion Tech. The panel was excellent as it gave the audience a good perspective from two global innovation start-ups, Canada's leading Academic and research facility surrounding sustainable fashion and representation from Canada's top fashion and retail brands. The panelists were as follows:
The four finalists then each had five minutes to present their company with then a Question & Answer session with the judges.
First was Pliant Power Devices – they have developed a flexible printable battery to replace toxic, unsustainable cobalt-based materials for the high-growth sector of wearable textiles.
Second was Scalable Garment Technologies – they have built a robotic knitting machine linked with 3D modelling software to make custom seamless knit garments, to ultimately reduce textile waste.
Third was Polygone Technologies – they have created a biomimetic filtration material, which can currently capture 95% of microfibres released from the washing machine.
The final pitch was from Sheertex – they have developed a proprietary yarn to create "indestructible" sheer pantyhose which will help reduce the 1 billion pairs of pantyhose going into landfill globally.
and the winner of the Textile Innovation Award was…Sheertex (see top photo).
The event had an amazing energy to it as there was considerable networking with a chance to meet all the finalists and supporting partners in an exhibit area. The response was tremendous:
"Thank you for including me in this event . It was executed well and a great networking opportunity to meet some of the most important people who are making a difference in the sustainability space." Barbara Atkin
Along with the pitch competition, we also had three supporting partners who graciously participated in the event. The City of Toronto, Retail Council of Canada and WaterTAP each gave an award to an applicant that met their specific criteria. Each of the winners will receive much needed support and Advisory from these organizations. The winners were as follows:
Circular Economy Award presented by the City of Toronto – Sheertex. Sheertex launched it's first product with Sheerly Genius, but they plan to launch several more products in the future. They are also planning a program to take back any used pantyhose for repurposing.
Retail Innovation Award presented by the Retail Council of Canada – Passen. Passen is a Toronto-based start-up with the goal to re-engineer FIT of garments through 3D scanning technology. Approximately 40-60% of e*commerce apparel purchases are returned, with the majority of reason due to poor fit. Passen is working to solve this issue and ultimately reduce returns.
Water Innovation Award presented by WaterTAP- UpGyres. Upgyres is taking action to stop micro-fibres from synthetic clothing from being discharged into the marine environment by intercepting and diverting washing machine lint from the sewage system. They are working to develop solutions for transforming discarded plastics into resources and revenue stream.
Visionary Award presented by the George Brown College Fashion Exchange and the MaRS Catalyst Fund – Olive + Elliot. Olive + Elliot is focused on creating sustainable fashion supply chains. They have started a local farm to grow textile crops including cotton, milkweed, flax, sunflowers, and natural dye flowers.
Thank you to everyone who participated, supported and attended the event. As per any new initiative, it was a tremendous amount of work – but worth every moment. We hope to continue with this event…stay tuned!
If you would like to hear some more about the event, check out the event Podcast, Green is the New Black by Amanda Cosco of Electric Runway.
Style with Substance (SWS) Ventures is the investment arm of Style with Substance, a brand dedicated to promoting and supporting sustainability in the Fashion Industry. The SWS Ventures portfolio currently includes Circular Systems, To the Market and Passen. SWS Ventures also offers Advisory Services to several innovative start-ups in the Sustainable fashion industry. Style with Substance was founded by Stacey Fruitman and is located in Toronto, Canada.
The George Brown College Fashion Exchange aims to model and foster innovative, ethical, and environmentally and socially sustainable production. FX is a vibrant hub where fashion education, design, production, entrepreneurship and engagement come together under one roof in the heart of downtown Toronto. FX brings together fashion educators, industry partners, community organizations, and fashion graduates to innovate for an increasingly sustainable, socially-conscious, and economically vibrant fashion industry
The MaRS Catalyst Fund provides funding and support to Canadian companies pursuing social and environmental outcomes with business models that scale. The Fund supports passionate entrepreneurs leveraging the tools of modern technology to address society's biggest challenges in delivering better health outcomes, a more sustainable planet and happier people through innovative education and work sustainability. After seeing a lack of impact investment opportunities in Canada, Sir Richard Branson's Virgin Unite seeded the MaRS Catalyst Fund and investors including some of Canada's largest foundations and other private investors. The Fund is managed by an experienced venture capital team at MaRS.