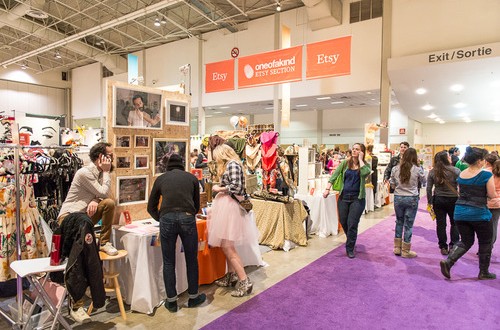 One of a Kind Show – Spring, 2015
At the end of March I attended the One of a Kind show in downtown Toronto. It had been many years since I had attended, but wanted to key my eye out for some Style with Substance. It was definitely worthwhile – below are some of the highlights:
Upcycling is a very interesting concept to me, but certainly not new. I recall my Grandmother constantly reusing items in her house to extend their life…
Upcycling, also known as creative reuse, is the process of transforming by-products, waste materials, useless and/or unwanted products into new materials or products of better quality or for better environmental value. Source: Wikipedia
Some great examples caught my eye, and my wallet. First was Electropura, an eco-friendly approach to Children's clothing. I spoke with founder Lynn van Gastel and she mentioned that she was in the fashion industry and became completely turned off from what she saw in the production cycle – and wanted to do something that repurposed mass textiles. The clothes are made of vintage tees and reused textiles.
Next was a very original concept of taking old labels and re-sewing them into pouches and bags by designer Julie Phelps of Jool, currently selling on Etsy. I spoke with Julie for a while and it turned out she was chosen to represent the George Brown College Fashion Studies in the show, along with 9 other designers. Upon reading her website, I discovered that she also had received 'Most Promising Designer' award at her graduation.
As per many of these types of shows, there was a plethora of natural, organic bath and beauty products. Two in particular caught my eye. The first was a brand called Dalish, started by a woman named Melanie Cruickshank who created the line in her home due to her very sensitive skin. It was a very simple but elegant line that could compete in any department store. According to her website, everything is locally made in Canada without the use of phthalates, parabens, petrochemicals, GMO's, gluten or sulfates.
Then I walked by a beautiful line called Blush by Matter company. whose slogan is 'the ingredients are the products'. I met with founder Denise Williams who is a Therapeutic Herbalist with a background in Environmental Studies. She mentioned the body care line, Blush, was high in antioxidants, so I ended up purchasing the Sugar Scrub and loved it! However, I was already sold – I noticed the Belly Jelly from her Mom and Baby line (ironically named Substance) – which was my saving grace during my twin pregnancy. Thank you Denise!
The final mention is a jewelry line that I have come to cherish. I came across Green Bijou about 5 years ago when my friend, Andrea Tsanos from Stonefox had her retail store. It was when I first became interested in socially responsible designers and was inspired by founder, Tricia McMaster. She visits antique and vintage stores around the world, then recreates these pieces into modern looks. Her tagline is "Raw vintage…Resurrected…Reinvented". It is that sense of creativity and passion for unique design – all with a responsibility for the environment that keeps me motivated to learn (and share) more…true Style with Substance.

If I missed something, you feel should have been highlighted – please send a comment below…thank you, Stacey,